Natural Wavy Hair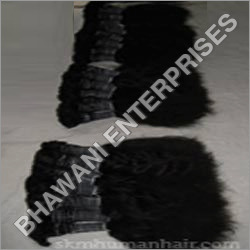 Natural Wavy Hair
Price And Quantity
Kilograms/Kilograms

200.00 - 1000.00 USD ($)
Product Specifications
Baby Girls Women Girls

Machine Weft Hair
Product Description
If one wants to strike a balance between straight and curly hair then offered Natural Wavy Hair is for them. This wavy hair has bouncy shine and smooth and silky texture which complements any kind of styling one does. Daily styling does not damage the texture of the real hair. This kind of wig comes in all sizes and lengths which compliments the personality of the individual. Offered Natural Wavy Hair quite easily blends with the natural hair and even can be dyed naturally. The naturally looking wavy hair suits all kinds of attires varying from western to traditional.
Features of Natural Wavy Hair:
1) Natural Wavy Hair has the unique texture.
2) It is available in intense black color.
3) This natural wavy hair can be dyed in different colors.
4) It is free from dust and dirt.
FAQs of Natural Wavy Hair
Q: What is Natural Wavy Hair?
A: Natural wavy hair alludes to a hair surface that falls somewhere close to straight and wavy. It has delicate waves that add surface and development to the hair without shaping tight twists.
Q: How is natural wavy hair not the same as straight or wavy hair?
A: Natural wavy hair has a one of a kind surface that separates it from straight and wavy hair. While straight hair needs waves or twists, and wavy hair has clear cut twists, natural wavy hair has delicate, streaming waves that give a more loose and beachy appearance.
Q: Might natural wavy hair at any point be fixed or twisted?
A: Indeed, natural wavy hair can be fixed utilizing level irons or twisted with hair curling accessories or styling devices. Its flexibility permits you to accomplish various looks relying upon your inclination.
Q: How might I upgrade the waves in my natural wavy hair?
A: You can improve the waves in your natural wavy hair by utilizing items intended for wavy hair, for example, ocean salt splashes or twist upgrading creams. Moreover, scrunching your hair while it dries naturally or utilizing a diffuser while blow-drying can assist with underlining the waves.
Q: What is the most ideal way to really focus on natural wavy hair?
A: Really focusing on natural wavy hair includes utilizing without sulfate shampoos and conditioners, as well as items custom fitted to your hair type. Abstain from over-washing, utilize a wide-tooth brush to detangle, and think about utilizing a silk pillowcase to limit frizz. Customary trims can likewise assist with keeping up with the state of your waves.
Q: Could I at any point wear expansions or winds with natural wavy hair?
A: Indeed, you can wear expansions or winds with natural wavy hair to add length or volume. Picking expansions that match the surface and shade of your natural waves for a consistent blend is fundamental. Also, human hair expansions can be styled to flawlessly match your waves.