Remy Double Natural Straight Hair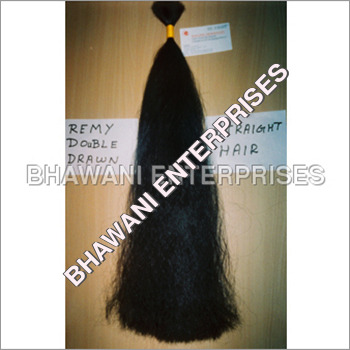 Remy Double Natural Straight Hair
Price And Quantity
Kilograms/Kilograms

430.00 - 790.00 USD ($)
Product Specifications
Natural Straight Hair

Artificial Hair
Product Description
Remy Double Natural Straight Hair generally refers to a specific type of high-quality human hair used for extensions or wigs. Let's analyze each part of this term:
Rough Hair: The best quality human hair for wigs or hair extensions is regarded as being remy hair. It is gathered and handled in a manner that keeps the cuticle aligned. This results in less tangling and a more natural, smooth appearance because every hair strand is facing the same way.
Double Drawn: The word "double drawn" refers to hair that has undergone thorough sorting and processing to eliminate shorter hairs. The bulk of the hair strands in the hair bundles produced by this procedure are of the same length, giving them a fuller and thicker appearance, especially at the ends. This creates a more opulent and voluminous appearance.
Natural Straight: The term "natural straight" refers to hair that is straight and devoid of any waves or curls. It looks similar to naturally straight hair that hasn't had its texture altered by chemical processes.
In other words, when you see "Remy Double Natural Straight Hair," you can anticipate premium human hair extensions or wigs that are created from naturally straight hair with aligned cuticles and a full, thick appearance. This hair type is favored for its all-natural appearance, tenderness, and longevity.
FAQs of Remy Double Natural Straight Hair
Q: What is Remy hair?
A:
Remy hair refers to high-quality natural human hair collected and processed in a way that maintains the alignment of the hair cuticles. This ensures that the hair remains soft, smooth and tangle-free.
Q: What does "double draw" mean?
A:
"Double drawn" describes a hair grading and processing technique in which shorter hairs are removed, leaving a strand of hair with almost the same length. This results in extensions or wigs that appear thicker and fuller.
Q: What is "natural straight" hair?
A: "Natural straight" hair means that the hair has a straight texture without curls or waves. Mimics the appearance of naturally straight hair that has not been chemically treated to change its texture.
Q: Why choose Remy double natural straight hair?
A:
This type of hair is chosen for its high quality, natural look and softness. Aligned cuticles reduce tangles and double-drawn processing creates a fuller look, making it a popular choice for extensions and wigs.
Q: Can Remy double natural straight hair be styled?
A:
Yes, Remy hair can be styled like your own hair. You can use heat styling tools, dye it, and even curl or straighten it, depending on your preference. However, it is essential to use heat protectants and take proper care of it to maintain its quality.
Trade Information
South America Western Europe Middle East Africa Central America Eastern Europe North America